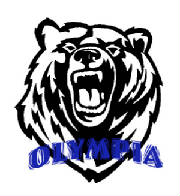 Game Day Schedule
| | | | | | | |
| --- | --- | --- | --- | --- | --- | --- |
| Date | Time | Home | | Visitor | Location | Score |
| 9/9/2006 | 10:15AM | BEARS Blue | vs. | Tigers | Rainier HS | 26-6 BEARS! |
| 9/16/2006 | 10:15AM | Lightning | vs. | BEARS Blue | Tenino HS | 6-24 BEARS! |
| 9/23/2006 | 9:00AM | Tornados | vs. | BEARS Blue | Yelm HS | 0-20 BEARS! |
| 9/30/2006 | 10:00AM | BEARS Blue | vs. | Hawks | Jefferson MS | 12-12 |
| 10/7/2006 | 10:15AM | BEARS Blue | vs. | Cougs Card. | Jefferson MS | 19-13 BEARS! |
| 10/14/2006 | 9:00AM | Sirens | vs. | BEARS Blue | Jefferson MS | 0-27 BEARS |
| 10/21/2006 | 10:00AM | BEARS Blue | vs. | Hawks | Jefferson MS | |
| 10/28/2006 | | | | | | |
October 12, 2006
MINOR BLUE BEARS FINISH SEASON WITH ANOTHER WIN!
The blue Bears finished up their best week of practice as they prepared to go up against their cross town rival last weekend, with the top playoff seed on the line. The Bears responded and took care of the Cougars 19-13. The score doesn't show the dominance that the Bears had on the field. The Cougars were unable to move the ball successfully most of the game. The reason: the Bears have the top defense in the minor division allowing an average of only 7 points per game. The Bears look to keep up their winning ways as they face the Sirens in round one of the playoffs. If everyone does their job, the boys know what the outcome will be. Victory!! Go get em boy's. The coaching staff is very proud of the effort that you have been putting forth in practice to improve each week of the season. (A coaches dream) Magic number: '3'.
- Coach Gunther, Coach Clark, Coach Woodruff, Coach Cain, Coach Heay, and Coach Martin
September 24, 2006
Defense Dominates, Bears shut out Yelm 20-0!
The minor blue bears faced the Yelm Tornados in Yelm saturday, beating them 20-0. The defense was out of control, as the Tornados didn't make one first down the entire game. The Bears held Yelm to negative yards of offense, shutting down anything and everything Yelm threw at them. It was a total team effort. Excellent Job boys!! The offense sputtard at times, but was still able to put points up on the board. This week we go up against the Hawks. Let's keep working hard in practice to make ourselves, and our team better week to week.
- Coach Gunther
September 21, 2006
Minor Blue Bears win Again
Minor Blue Bears showed their dominance once again last week by handling the Lightning 42-6. The Bears defense has only allowed a handful of first downs in the last two weeks, while the offense is clicking on all cylinders. David Woodward is leading a strong running attack along with Logan Pine, Jace Clark and Scott Gunther, as the Bears have reached the endzone 8 times in two weeks. The reason, solid blocking up front by: Marshall Blake, Caleb Davis, Cooper Woodruff, Nick Hey, James Gunther, and Colton Haisch. All of the Bears success would not be, without the complete team effort these kids have been putting out. Keep a chuggin' Bears, as we face the Tornados this Saturday. The Blue Bear coaches are super proud.
- Coach Kevin Gunther