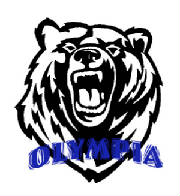 Game Day Schedule
| | | | | | | |
| --- | --- | --- | --- | --- | --- | --- |
| Date | Time | Home | | Visitor | Location | Score |
| 9/9/2006 | 6:30PM | BEARS Blue | vs. | Tigers | Rainier HS | 14-19 |
| 9/16/2006 | 4:00PM | Lightning | vs. | BEARS Blue | Tenino HS | 0-21 BEARS! |
| 9/23/2006 | 2:30PM | Tornados | vs. | BEARS Blue | Yelm HS | 7-14 BEARS! |
| 9/30/2006 | 1:30PM | BEARS Blue | vs. | T-Birds Gold | Ingersoll | 27-0 BEARS! |
| 10/7/2006 | 4:30PM | BEARS Blue | vs. | Cougars | Ingersoll | 12-6 BEARS |
| 10/14/2006 | 3:00PM | BEARS White | vs. | BEARS Blue | Ingersoll | 0-13 BEARS! |
| 10/21/2006 | 3:00PM | Tigers | vs. | BEARS Blue | Ingersoll | 33-13 |
| 10/28/2006 | | | | | | |
Varsity Blue Bears Win Game 5
Once again, the Blue Bears were successful controlling the line of scrimmage and scoring enough points to win the ball game. We worked hard to improve our Special Teams play in practice this week, and it really paid off well. Kickoffs were covered much better, and our punting team pushed the Capital Cougars' offense back, aiding our defense. On the line of scrimmages, we were able to open running lanes for our backs, and close them for our opponents. We are so proud of our men up on the line. They work very hard and we wouldn't be where we are without them.
Defensively, we had a tough time with a couple of the Cougar formations in the first half, but adjusted well in the second half. It was a real learning experience, and should help us prepare for the playoffs. There is no substitution for game experience to improve a player's skills. The speed of the actual game and the powerful force of a live opponent cannot be duplicated in practice. We improved as a team both mentally and physically having played this particular game.
On the offense, our passing game contributed in our overall success by forcing the Cougars to respect it. We threw the ball just enough to help our offensive line control the running lanes. Several passes were caught, but two receptions caught by Jacob Swilley ad Hayden Brackenbury respectively, lead to touchdowns.
–Coach Flynn
Week 4
Major Varsity Blue Bears are Triumphant
All three phases of the Blue Bears' game were impressive this week against the Tumwater Gold Thunderbirds, but it was the Special Teams that made the difference. Several fumbled kickoffs by the T-Birds and heads-up play by Colin Evans and Hayden Brackenbury among others, helped keep the T-Birds offense off the field. The Bears' efficient offense put 24 points on the board, and the Special Teams added three extra points in this one-sided competition. The defense handed the T-Birds a shutout for a final score of 27-0. We all expected a tough battle, but those kick-off recoveries and good old fashion Bear determination were just too much for the T-Birds.
Now it's time to battle the divisional co-leaders, the Capitol Cougars. It should be quite a matchup.
-Coach Flynn